MarSurf | Mobile roughness measuring instrument
MarSurf M 310
Art. no. 6910265
The all-rounder with 5 µm probe tip
For those who need more. The MarSurf M 310 has the same functions as the PS 10, but offers you crucial, additional functions.
Mobile roughness measurements with added value
Simple and intuitive to use: as easy as using a smartphone
Large, illuminated 4.3" TFT touch display
Specification of the cutting line C in μm or in % of Rz for the characteristic values Rmr and tp
Removable drive unit
31 thread parameters
Work without errors, thanks to integrated, removable roughness standard
Automatic cutoff selection, so even non-specialists can be sure of getting the correct measuring results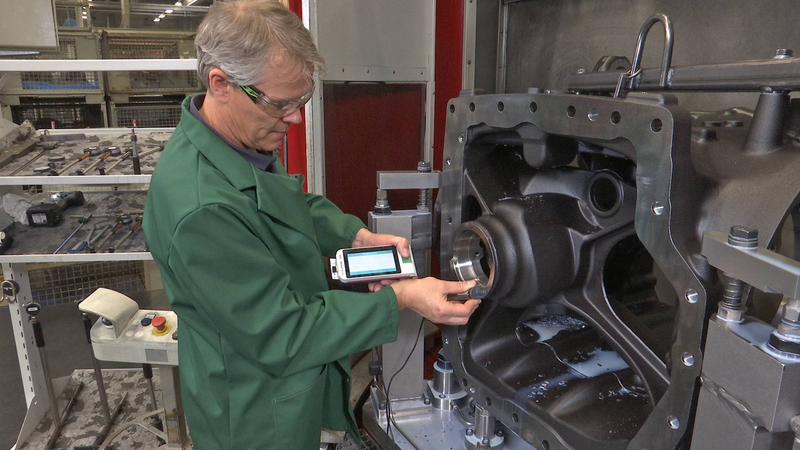 Advanced interface diversity
Micro USB interface for remote control via ASCII commands, e.g. via software for statistical process control
USB-A interface - for connection e.g. of a USB Bluetooth adapter or USB/Bluetooth printer
Transfer of measurement protocols and data optionally via Bluetooth or cable
IATF 16949 compliant - Secure traceability with MarConnect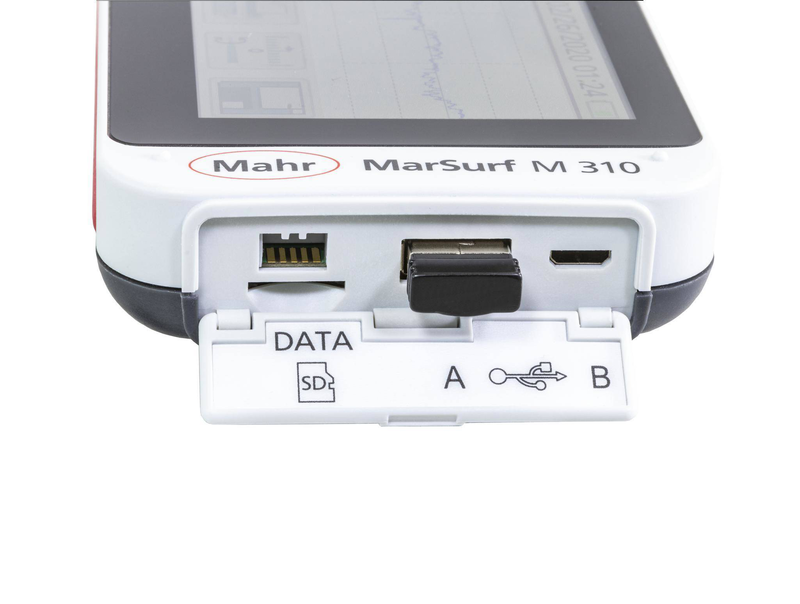 Easy documentation
Print directly to the mobile printer (as an option or directly in the set with printer)

Data backup as TXT, X3P, CSV and PDF file
Creation of finished PDF protocols directly in the measuring device
Custom comments for the PDF protocol are entered directly on the MarSurf M 310
Display and print MRK and ADK curve
Save over 1000 measuring programs (Quick & Easy)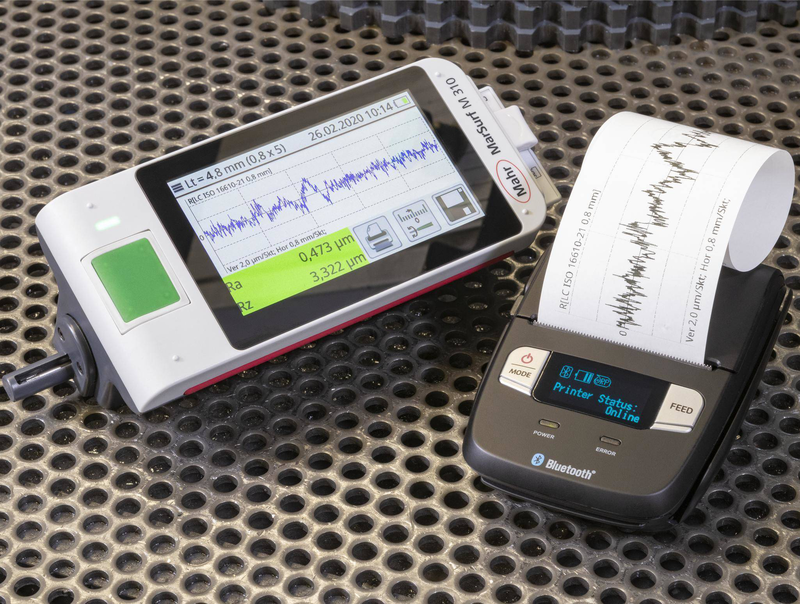 MarSurf M 310 | Art. no. 6910265
Dimensions in mm
160 mm x 77 mm x 50 mm
IP protection category
IP 40
Positioning speed
0.5; 1.0
Measuring principle
Stylus method
Probe
Inductive skidded probe
Parameters
A1 , A2 , Ar , CF , CL , CR , Mr1 , Mr2 , R , R3z , RPc , RS , RSk , RSm , Ra , Rk , Rmax , Rmr (tp (JIS, ASME) is equivalent to Rmr) , Rp , RpA (ASME) , Rpk , Rpm , Rpm (ASME) , Rq , Rt , Rvk , Rx , Rz , Rz (JIS) , Rz (Ry (JIS) is equivalent to Rz) , Vo
Measuring units
metric/inches
Measuring range mm
0.350
Profile resolution
8 nm
Filter according to ISO/JIS
Gaussian filter as per ISO 16610-21 (formerly ISO 11562), special filter as per DIN EN ISO 13565-1, Lambda s filter as per DIN EN ISO 3274 (can be switched off)
Cutoff Ic according to ISO/JIS
0,25 mm , 0,8 mm , 2,5 mm , automatic filter detection , variable
Short stroke under ISO/JIS
Selectable
Traversing length Lt according ISO/JIS
1.5 mm , 4.8 mm , 15 mm , N x Lc , variable , automatic
Traversing length according ISO 12085 (MOTIF)
1 mm, 2 mm, 4 mm, 8 mm, 12 mm, 16 mm
Evaluation lenth In according to ISO/JIS
1.25 mm, 4.0 mm, 12.5 mm
Number n of sampling length according to ISO/JIS
Selectable: 1 to 16
Stylus
5 µm
Measuring force (N)
.00075
Calibration function
Dynamic; Ra, Rz, Rsm
Storage capacity
Min. 3900 profiles, min. 500,000 results, min. 1500 PDF measuring records, expandable to 32 GB with microSD card (320x memory capacity)
Languages
German , English , French , Italian , Spanish , Portugese , Dutch , Swedish , Russian , Polish , Czech , Japanese , Chinese , Korean , Hungarian , Turkish , Romanian
Other
Lock/password protected, date/time
Data interface
USB A , USB B , MarConnect (bidirectional) , Micro SD slot for SD / SDHC cards up to 32 GB
System of protection
IP 40
Rechargeable batteries
Lithium-ion battery, 3.7 V, nominal capacity 11.6 Wh, min. 1200 measurements
Wide range power supply
100 to 264 V
Variety of applications for our products
For shafts and housing components
For large machines
For large workpieces
For milled and turned parts
For ground and honed workpieces
On the production line or directly on the machine, ideal for rapid testing of the surface roughness of a workpiece in or on the machine.
Label
Art. no.
Product type
For measuring instrument
Data interface
Hardware interfaces
Cable length
Measuring range mm
Measuring range inch
Resolution
Resolution
Error limit inches
Error limit µm
Error limit inches
Product weight
Standard
Column diameter d
Fine adjustment range mm
Base surface
Total height
Projection (max.)
Mounting hole
V-block for shaft diameter
Adhesive force prism
Data cable USB bidirectional
DK-U1
4102603
DK-U1
Micromar 40 EWR (≥ 2018)
Millimess 2000 W(i), 2001 W(i)
Millimar C 1202
MarSurf M310
USB
USB , Duplex
2 m
PHT pick-up extension 80 mm
PHT (80 mm)
6850540
Standard probe 2 µm
PHT 6-350
6111520
Standard probe 5 µm
PHT 6-350/ 5µm
6111526
Standard probe 10 µm
PHT 6-350/ 10µm
6111527
Probe for bores with a dia. larger than 3 mm
PHT 3-350
6111521
Probe for grooves
PHT 11-100
6111524
Probe for concave and convex surfaces
PHTR-100
6111525
Probe for gear tooth flanks
PHTF 0.5-100
6111522
Probe for metal sheets
PT 150
6111523
Measuring stand 300 mm with cast iron base
ST-D
6710803
Measuring stand 300 mm with granite plate
ST-F
6710806
Measuring stand 300 mm with granite plate and T-slot
ST-G
6710807
Adjustable mounting bracket to connect to 814 SR
814 Sh
2247086
Height measuring and scribing instrument
814 SR
4426100
Opto RS-232C , Digimatic , USB
0 - 350 mm
0 - 14"
0.01 mm
0.0005 inch
.0016"
40 µm
0.0016 inch
7 kg
Factory standard
Height measuring and scribing instrument
814 SR
4426101
Opto RS-232C , Digimatic , USB
0 - 600 mm
0 - 24"
0.01 mm
0.0005 inch
.0020"
50 µm
0.002 inch
8 kg
Factory standard
V-block
PP
6710401
Parallel vice
PPS
6710604
XY table
CT 120
6710529
Set of miniature precision vises
109 PS
4246819
Roughness standard with Mahr calibration certificate, profile depth 10 µm
PRN 10
6820420
Measuring tripod with triangular pedestal
815 GN
4413000
4.2 kg
14 mm
2 mm
150 x 150 mm
300 mm
185 mm
8H7
Measuring tripod with triangular pedestal
815 GN
4413001
9 kg
18 mm
2 mm
190 x 180 mm
500 mm
200 mm
8H7
Measuring tripod with triangular pedestal
815 GN
4413005
10 kg
25 mm
2 mm
190 x 180 mm
750 mm
230 mm
8H7
Measuring tripod with magnetic base
815 MA
4416000
2.5 kg
2 mm
285 mm
230 mm
8H7
20 - 100
450 N