Millimar | Compact length measuring instrument
Millimar 832 PE/F2
Art. no. 2004110
Compact length measuring instrument Millimar 832 PE/F2
Compatibility: Federal
Magnification: 10000:1, 20000:1
Inputs for pneumatic measuring equipment: 2
Number of jets: 4
Data interface: RS-232C
Energy supply: 110 V / 60 Hz, Power source
Package contains: power source, supply hose AHO-2, adapter for pneumatic plug gages, Federal compatible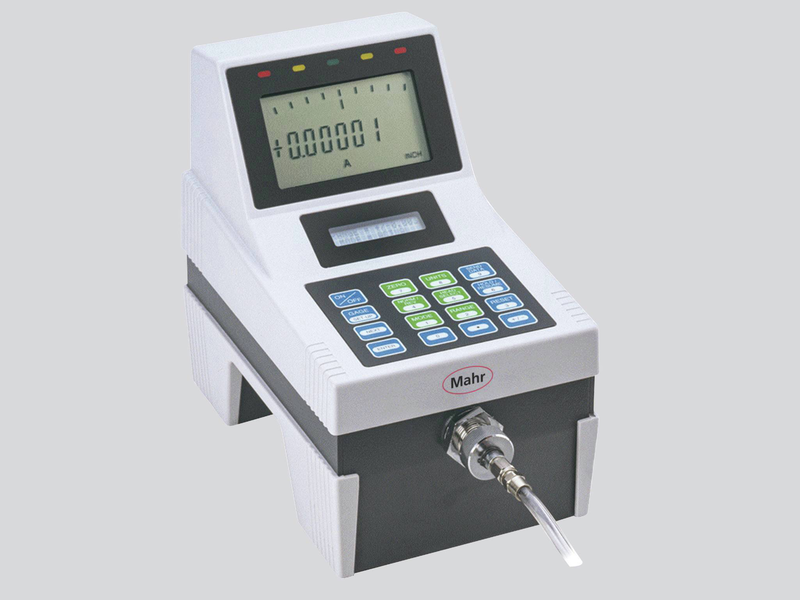 Digital and analog display in one unit. Large, high-contrast digital display of the exact deviation from zero and analog display of measurement-related information
 With its fixed ratio and controlled compressed air supply, the digital Dimensionair is a sturdy, reliable system for manufacturing environments.
Only one standard needed for zero offset; the instrument is precalibrated for the correct ratio
Measuring ranges and resolutions for almost all measuring applications, including measuring equipment with 2, 3, 4 and 6 nozzles, air sensors and nozzle measuring probes.
Suitable for dynamic measurement
RS-232 output for communication with a data storage device, computer or printer, for statistical process control
Master deviation – improved measurement with even more accurate automatic zero offset.
Millimar 832 PE/F2 | Art. no. 2004110
Display
Display mode A (or A and B for 2 channel models only)
Product type
832 PE/F2
Range of digital display µm
± 8 , ± 4
Range of digital display inch
± .0003" , ± .00015"
Resolution µm
0,1
Graduation mm
0,4 , 0,2
Graduation value inches
15 µ" , 8 µ"
Tolerance display
5 LEDs
Compatibility
Federal
Dynamic functions
Max, Min, Max-Min
Statistical functions
Actual value, nominal value
Response time digital display
0.43 s
Error limit
+/- 1 digit
Data interface
RS-232C
Control outputs
5 TTL optocoupler outputs
Analog output
±5 VDC bei Maximalausschlag des gewählten Messbereichs für Signal ±A, ±B
Energy supply
110 V / 60 Hz , Power source
Operating temperature Min
5 °C
Operating temperature Max
35 °C
Product weight
5 kg
Label
Art. no.
For measuring instrument
Data interface
Hardware interfaces
Cable length
Data connection cable RS232C

7024634
Digimar 817 CLM
Millimar C1208, C1216, 1240, C1245, S1840, S1841, X1715, X1745, 832
RS-232C , Null modem
RS-232C , Null modem
3 m
Magnification kit
AMR-14
2086962
Replacement filter element for AFL-10 filter
AFL-21
2201992
Replacement filter element for AFL-24 filter
AFL-23
2201993