Calibration of precision gages: manufacturer-independent and at the highest level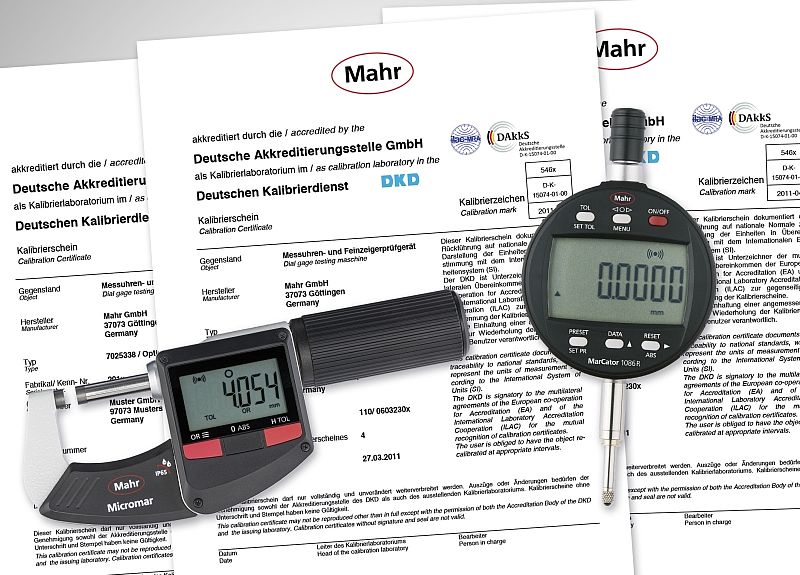 The regular calibration of your measuring instruments is crucial in order to reliably comply with specified values in critical processes. Calibration to the highest quality standard, for example ISO 17025, can therefore be seen as an investment in your production: it helps to meet high normative requirements and strengthens your customers' trust in your company.
All Mahr calibration laboratories therefore work in compliance with ISO 17025. Depending on your requirements, calibration is performed at DAkkS level or at factory/ISO level. We document the results with audit-proof certificates that are recognized worldwide by the International Laboratory Accreditation Cooperation (ILAC).
Manufacturer-independent services: over 45 accreditations for the length
For precision gages, Mahr offers you the calibration of your entire test equipment stocks – independent of the manufacturer. For this purpose, Mahr's calibration laboratories have more than 45 accreditations at DAkkS level in this field. These include accreditations for various calipers, outside micrometers, height gauges and precision pointers as well as inductive and incremental probes, various types of threads as well as dial gages and dial gage test stations. Furthermore, Mahr offers DAkkS-compliant calibrations of length setting standards on the coordinate measuring machine.
For more information on our laboratories and accreditations, please visit the service pages of our website.
Service from a single source – software-supported & paperless
Mahr calibrates the corresponding measuring instruments and measuring equipment for you in its laboratories regardless of the manufacturer – i.e. even if they come from a brand other than Mahr. The advantage is obvious: You can have your entire test equipment inventories calibrated by Mahr as a service provider, thus reducing costs and effort.
Mahr offers you the web-based software "MarSoft Cal" for gage management. If you wish, you can use the online portal to manage your entire inventory of test equipment and handle communication with Mahr: from registering a calibration to receiving and documenting the protocols and certificates. But even without the software, Mahr can offer you almost paperless communication for all aspects of calibrating your length measuring technology.
But what happens if it becomes apparent during calibration that a repair is necessary? Here, too, Mahr offers you the right service. Mahr can repair not only Mahr's own precision gages, but also a large number of competitor products that are commonly available on the market.
Do you have any questions?

Please contact us!
Claus Bohnert
Your contact for calibration and other services for precision gages.

claus.bohnert@mahr.de
+49 (151) 14 73 71 76

<