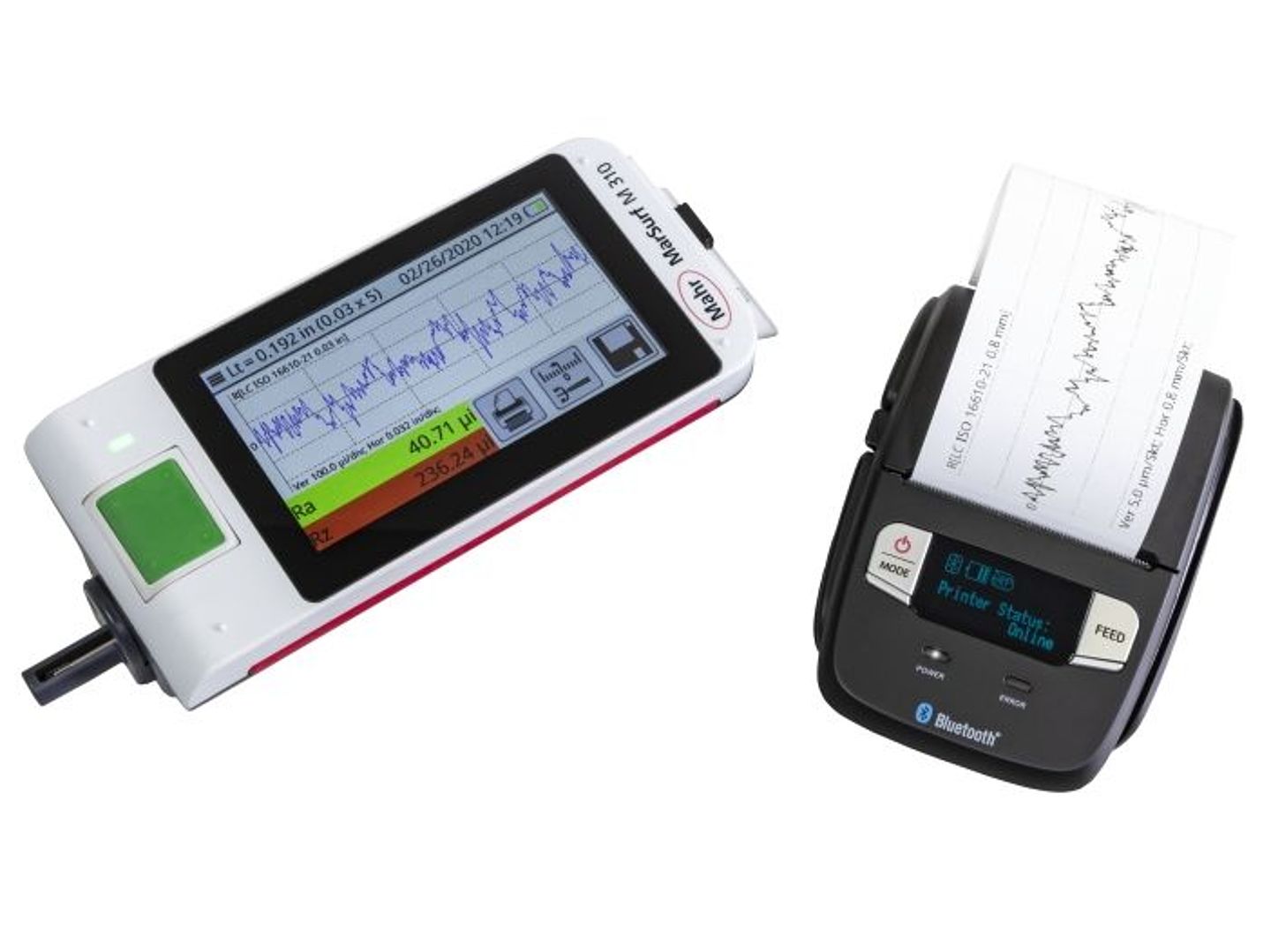 Roughness
|
MarSurf M 310
All-rounder for quick & easy roughness measurements
With the MarSurf M 310, Mahr offers a flexible device for mobile recording and evaluation of measurement data:
Easy operation thanks to large touch display and intuitive software

Preprogrammed measurement functions and automatic filter functions for

immediate measurement sequence

Optional: wireless printer for more flexibility

Possibility of automation by remote control or barcode scanner

Save and export measurement protocols directly as PDFs
Roughness measurement
|
MarSurf M 310
Fast & safe measurement through simple operation
Even without specialist knowledge and training, you can reliably determine roughness parameters with the MarSurf M 310. The intuitive operation is carried out directly via the touch-sensitive display – just as you know it from your smartphone.
Intuitive software with clear menu structures

Preprogrammed measurement functions

Automatic filter selection

Highly visible status LEDs
Roughness measurement
|
MarSurf M 310
Document measurement results correctly
The MarSurf M 310 offers a wide range of options for evaluating and saving your measurement data:
Complete measurement logs in PDF format or individual measurement values as CSV files
Data transfer wireless via Bluetooth or wired via USB, Micro-USB and MarConnect
Simple transmission of a measuring device ID via MarConnect enables traceability of your measurement results

Optional: Wireless printer for saving your measurement results directly on thermal paper
Roughness
|
MarSurf M 310
Simply scan & start directly
Do you want to reduce sources of error? Untrained users should perform measurements? No problem for the MarSurf M 310: Call up a pre-programmed function directly via a barcode or QR code. For example, you can start the appropriate measuring program or read in additional workpiece information.
Connect commercially available hand-held scanners via USB or Bluetooth

Perform measurements with confidence
Minimize sources of error by automating your processes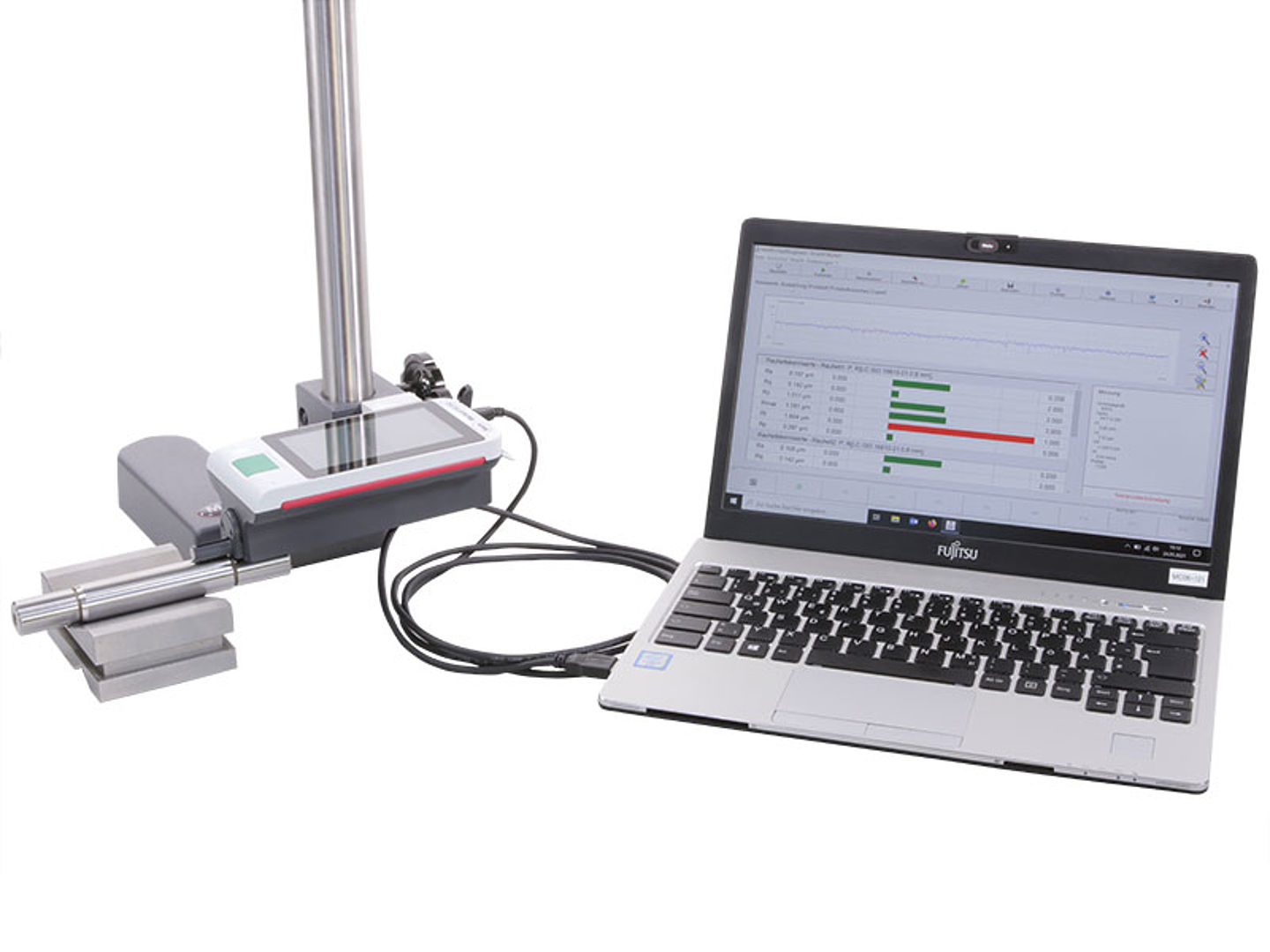 Roughness
|
MarSurf M 310 PC
NEW: Cost-effective to a full-fledged measuring station with the MarSurf M 310 PC
Together with the MarWin Easy Roughness software, you can also use your MarSurf M 310 as a drive unit. This enables you to cost-effectively expand the range of functions by numerous parameters and additional options for data evaluation. The connection is made via cable or Bluetooth.
Roughness measurement
|
MarSurf M 310
Increased efficiency through programmable processes and interfaces
Define and easily call up measuring programs for workpieces
Start of the measurement by barcode scanner or by ASCII command possible
With MarWin the drive unit can be used forming a stationary system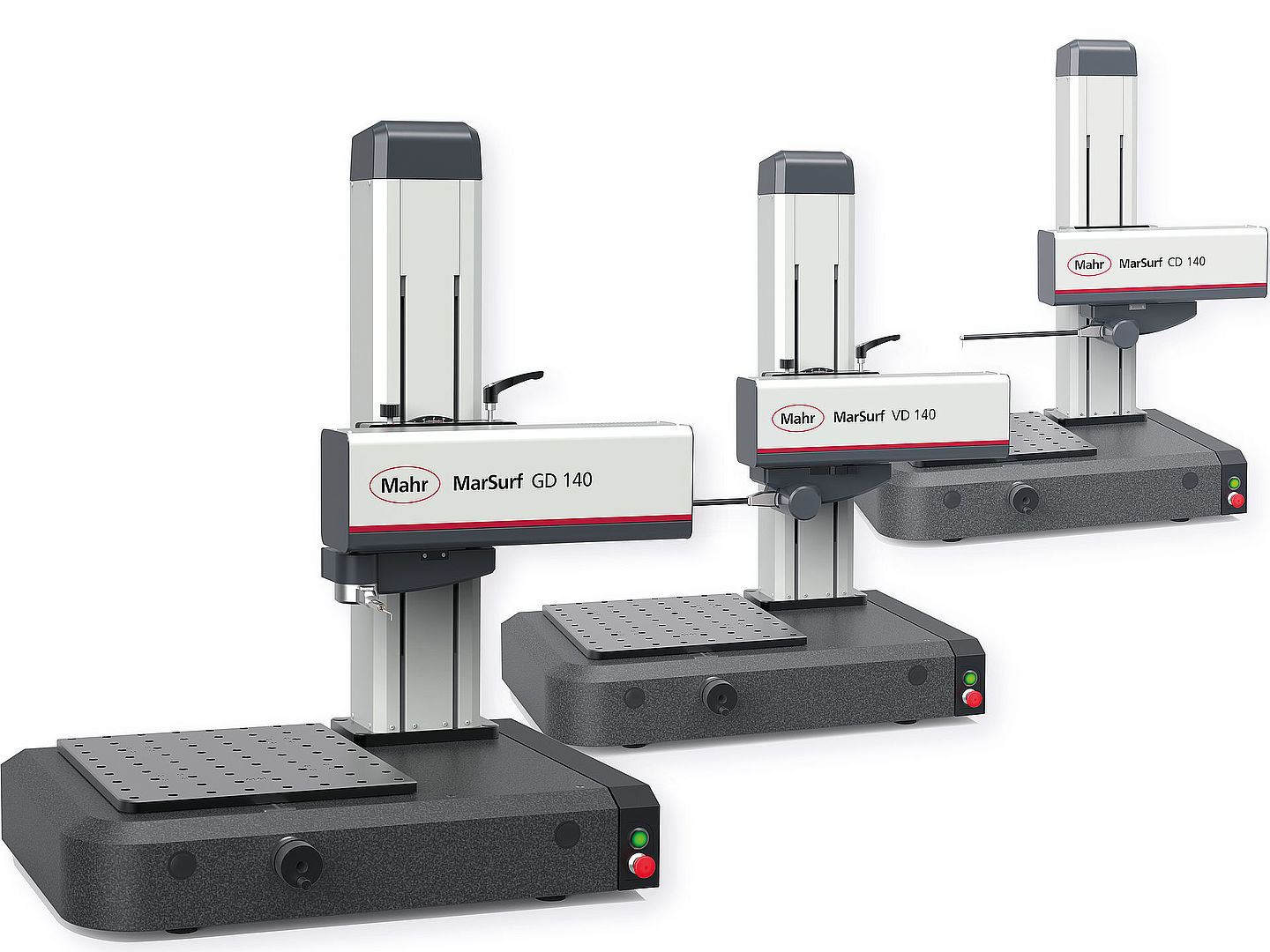 MarSurf
|
Product family CD, GD and VD
Perfect portfolio for modern contour and roughness measurement
With the new product family and the extensive accessories & probe arms, Mahr offers the perfect solution for everyone.
MarSurf CD: t

he specialist for contour measurement – even with roughness measurement from 2 μm.

MarSurf GD: the expert for accurate and fast roughness measurement.
MarSurf VD:

f

or versatile measurement tasks. Switch between both measuring systems for maximum measurement flexibility.
MarSurf
|
Product family CD, GD and VD
50 % time saving due to our clever mounting plate
Only a few hand movements are required to flexibly position workpieces on the large mounting plate.
The 50 mm hole grid allows easy placement of accessories (for example, guide stops).
Many existing clamping devices can be used, which reduces additional investments.
Grid and marking avoid misplacements.
MarSurf
|
Product family CD, GD and VD
Experience flexible metrology
The key to this is the large measuring range and the innovative clamping system of our machines. of our machines. In addition, the wide range of useful accessories ensures a wide variety of applications.
MarSurf
|
Product family CD, GD and VD
MarControl touch control panel for more comfort during your measurement
Easy operation via joystick and touch display

The speed can be adjusted or the sequence paused using the rotary control.

Start measuring programs directly via the touch control panel.

CNC axes enable broader automation

All axes of the measuring system can be moved continuously and simultaneously.
MarSurf
|
Product family CD, GD and VD
Useful features for more efficiency
With one system you can solve numerous measuring tasks and increase the efficiency of your work.
Automatic stylus recognition thanks to integrated chip

Variable probing forces: p

individually adjustable to suit the measuring task

Special accessories also for unusual measuring tasks

Magnetic mounting of all probe arms for quick changeover without tools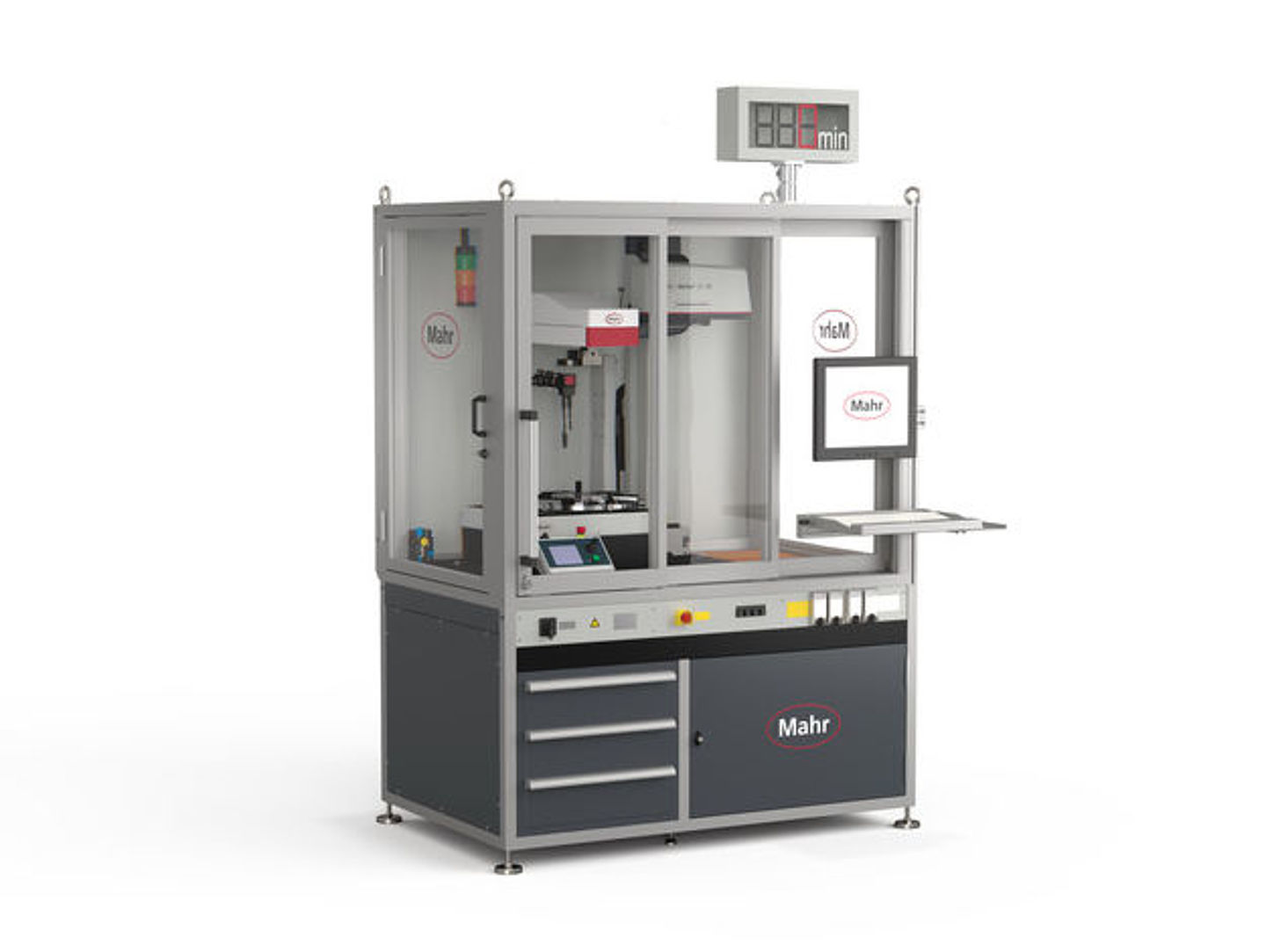 MarSurf
|
Engineered Solution
Customized solution with the MarSurf LD
The goal: Fast and highly accurate measurements with higher piece counts. With the MarSurf LD as the basic device and customer-specific extensions, efficiency can be optimized in a targeted manner. Examples:
Rotary table with quickly exchangeable workpiece fixtures
Automatic probe arm change unit
Pallet measurement to increase throughput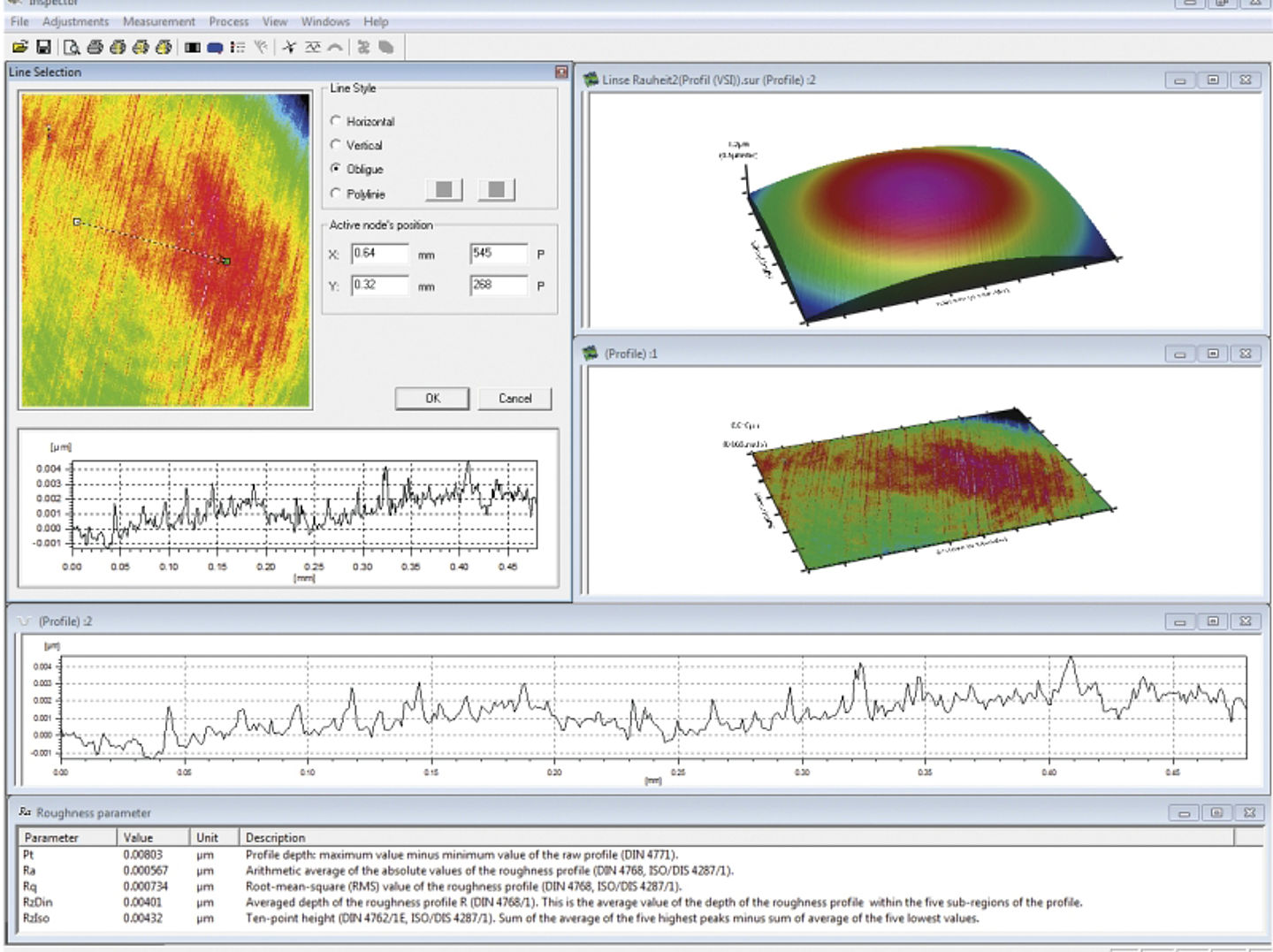 Optimal properties for uncomplicated measurements
High measuring and positioning speed minimizes measuring times many times over

Innovative

probe system solution

Fast and reliable exchange of probe arms with simultaneous probe arm detection by magnetic holder
Long measuring distance up to 260 mm (MarSurf LD 260) with a measuring stroke of 13 mm (with 100 mm probe arm length) or 26 mm (with 200 mm probe arm length)
Maintenance possible without complete dismantling of the measuring stand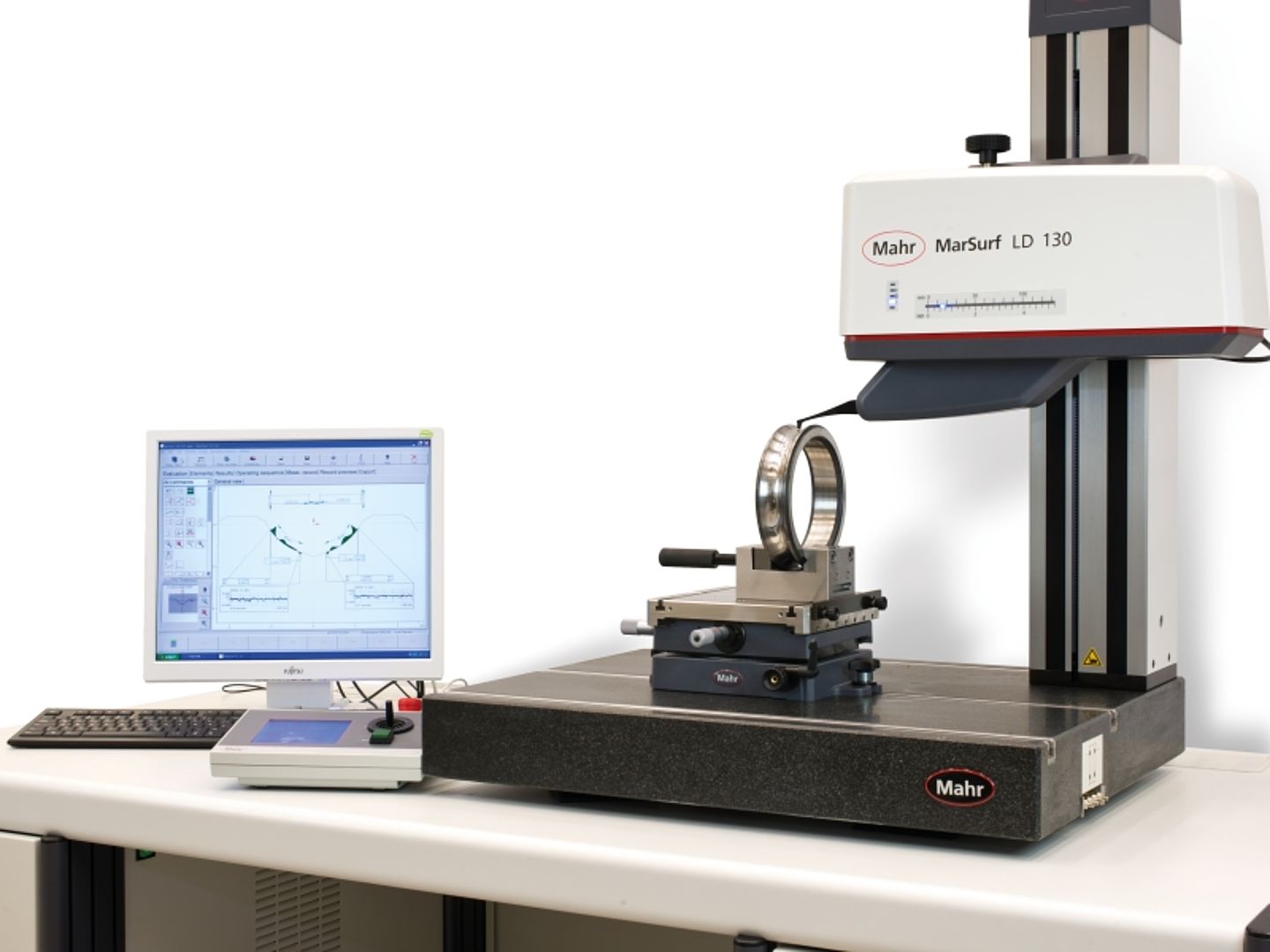 Combined contour and surface measuring station
The MarSurf LD 130 and MarSurf LD 260 measuring stations are characterized by fast and uncomplicated parallel running contour and roughness measurements in one measuring run.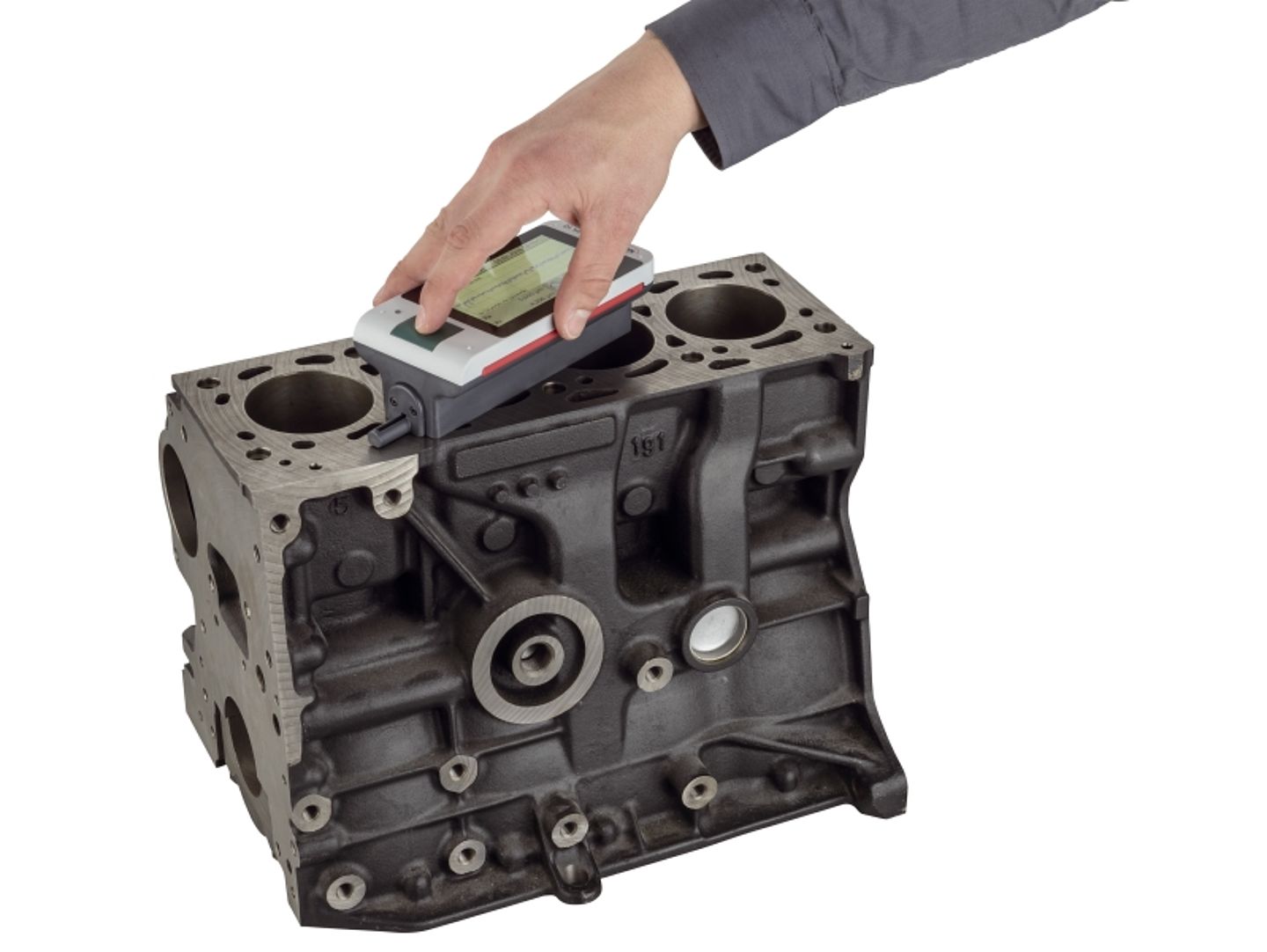 Roughness
|
MarSurf PS 10
Mobile measurement made easy
Location-independent surface measurements – no problem! Whether vertical, horizontal and if necessary even upside down, the PS 10 is ideal for mobile measurements due to its small size.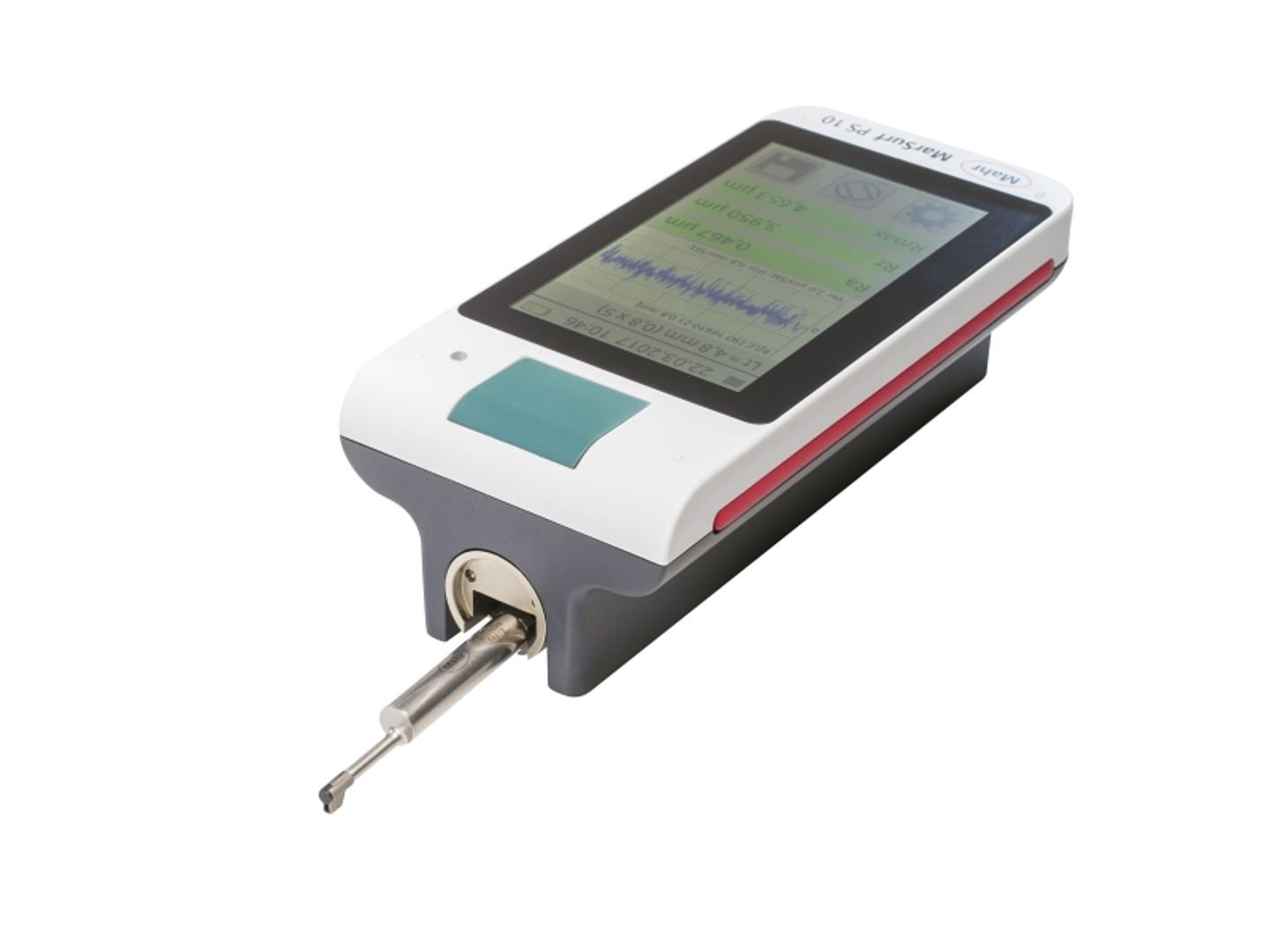 Roughness
|
MarSurf PS 10
Ideal for entry into mobile surface metrology
With its particularly simple and intuitive operation and numerous safety functions such as automatic cutoff, the device can be controlled as easily as a mobile phone.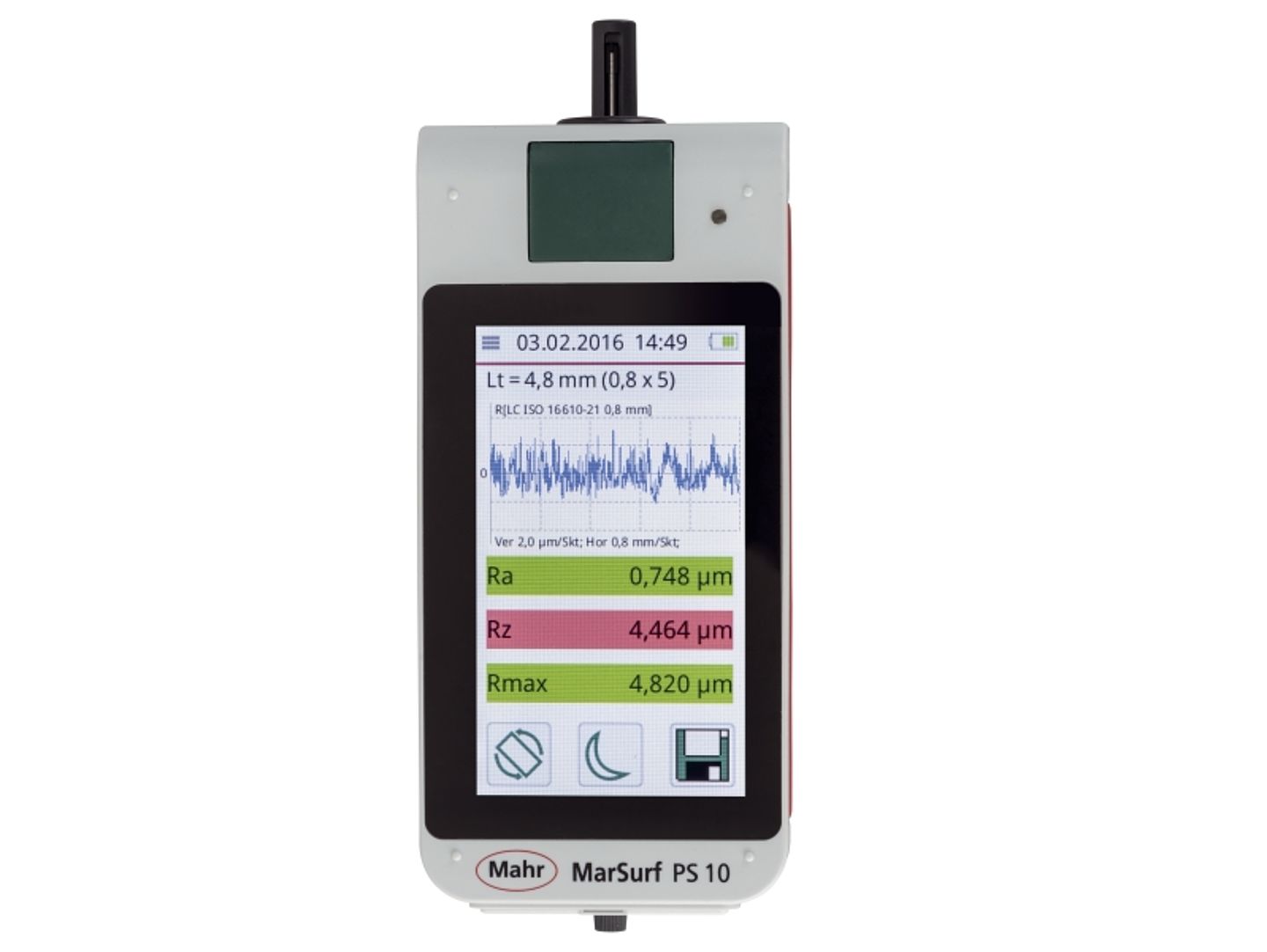 Roughness
|
MarSurf PS 10
Measuring data to go
Up to 500,000 measurements can be stored in the device
Creation of finished PDF protocols directly in the measuring device and data backup as TXT, X3P, CSV and PDF file
At least 1,200 measurements without mains operation
Allrounder with intelligent probe system
The new MarSurf CD 140 AG 11 contour measuring machine makes fast and precise measurements possible. Thanks to its flexible workpiece holder, it is particularly easy to handle and impresses with its great versatility – for example, also for measuring roughness. Its intelligent probe system and the magnetic probe tip holder enable uncomplicated and tool-free probe tip changes at any time.
X-axis with maximum measuring range
High-speed X-axis designed for a large measuring range of 140 mm
Travel speed of the X-axis up to 200 mm/s
Y-axis manually adjustable with a traverse path of 60 mm
Quick adjustment of the Z-axis with a simple handle
Fine adjustment in the Z-axis to move the X-axis up and down
Intuitive contour measurements in the blink of an eye
With the integrated MarWin software, simple, intuitive contour measurements including their evaluations are possible. The measurement wizard guides users to their measurement data in a targeted manner. Numerous measuring tasks – for example, for determining radii, arc lengths, distances, angles and much more – are already pre-programmed.
A special highlight is the patented function "Tangential Elements": It supports the simple and operator-independent evaluation of tangential transitions between radii and straight lines.